I would like to thank Elizabeth so much for allowing me to guest post on The Mustard Ceiling while she is busy attending to the fun business of moving! The Mustard Ceiling was one of the first blogs I started reading when I first became introduced to the addicting underworld of design blogs and it has always been one of my favorites so I am so pumped to be included in this great line-up of bloggers!
Just a mini-introduction, I am Joanne of Homestyling101, the boutique design firm and blog. I am a one-woman show juggling clients, projects, the blog, kids and my own home. Homestyling101 the blog takes you through my thoughts, trials, inspirations and randomness. I hope you stop by some time! Thank you Elizabeth!
In today's post I am going full-monty and expose myself as a lazy designer. The picture below is me as a designer ….at rock bottom. It is a picture of my son's room….and it's pink. Don't laugh and don't judge…there is a story behind it.
My daughter was born into a pink room with a beautiful blue cloud sky on the ceiling. I painted a beautiful mural above her crib with the scripty words Princess Emilia. Fantastic. No big deal….not on the crazy train yet….keep reading.
Two years later, my son was born. I decided to put them in the same room. I painted two walls blue, kept two walls pink and painted a matching mural over my son's crib in majestic letters "Prince Edward". Great. Still not certifiable. Keep reading.
Two years later I moved my daughter out of the room and into her own room. And then I got lazy…..and I kept my son's room pink. For a while. About a year and a half. I have to be honest- it wasn't out of total laziness that the room stayed pink. In all honesty, I was stumped. I couldn't bring myself to paint over the murals that I had painted so lovingly for my babies while they were in-utero. How could I just wipe that away in the name of design? Clearly, I couldn't so that is where my son slept….for a while…. (excuse the photo- I wasn't blogging then so that photo was intended for my eyes only.)
What was wrong with me? As a designer, I am required to problem solve on every job but yet I couldn't pull it together for my own home. And then finally, I had had enough (or perhaps it was my husband begging me to pull it together and get his son out of a pink room!)
I picked a paint color, Old Blue Jeans #839, from my bestie Benjamin Moore and got to painting….around the murals.
I popped over to Art.com for some retail therapy and found this cheeky guy….he just reminded me of my son…I know…odd. It is titled "Be Cool" by Ed Heck. Loved it. Ordered it.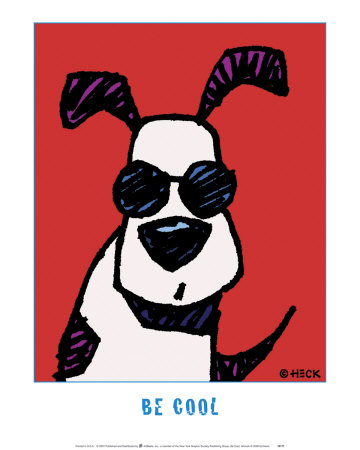 Be Cool
I love things in pairs so I found this one and ordered this one by Ed Heck, too! It is called "Hang In"…this reminded me of myself….hanging on by my beak to get this transition going…..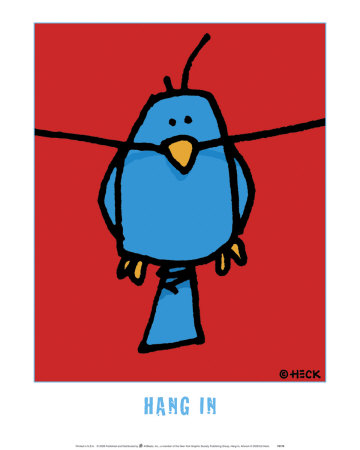 Hang In
Now I was on a roll….making progress…I drove straight to AC Moore, picked up some wooden poster-sized frames, some craft paint and some poster board and got to work!
And here is the end result….granted, several years later, I still have some tweaking to do: some trim on that lamp, I am going to paint that bookcase and hang a little gallery wall on the left but I think it has come very far for a boy in a pink room. My son turns six in a few weeks and I am happy to say he has had a blue room since he was 4 so I don't think I did any major psychological damage….at least not that he'll be able to share with a therapist. These photos are not great but you can see we did white wood blinds, some handy shelves and some trusty Flor tiles.
While it took me a while to find a solution to that design dilemma, it made me appreciate the decisions I push my clients to make every day. Decision making for my client's spaces is easy- I am focused on the design goals….in my own home I was stuck with the emotional baggage. I may have taken the slow train but I worked it out….
Have you had to problem-solve your way out of a decorating dilemma? Do share….I'll talk about it in my design group therapy where we are currently analyzing why I can't pick new couches for my living room…..
And if you like the Ed Heck prints I ordered, you have to check out the other fab prints he has- great for a kid's room or playroom…

Air Guitar

Untitled

The Box