Hi y'all.  I hope you had a nice weekend.  I know we did.  We spent most of the weekend working around the house.  We officially found out Friday afternoon that we're MOVING!!!
We're still waiting on the final details, but it looks like we will most likely be moving to Rapid City, SD this summer.  Any reader's from South Dakota?
I don't know a lot about the area, but with the massive amounts of research I have done this weekend, it looks like it will be a great match for us.  I have desperately missed being able to spend time outside hiking and biking and it looks like South Dakota has a lot to offer in terms of outdoor activities.  In general, it looks like there is a lot going on in the area.  When Alfred first told me South Dakota was one of the options I wasn't very excited, but the more research I do, the more I get excited.  I hope it is a place where we can feel at "home."
Anyway…back to the kitchen.  I finally got the pictures uploaded and edited.  I may try to take some better ones, but I'll share what I have…are you ready?
I still have a few things I would like to complete, but at this point we're rushing to get through our TO DO list so we can hopefully get our house on the market next month.
In the kitchen we built the wooden counter tops out of solid doors from Habitat for Humanity, ripped down the upper cabinets on the right side (opening up the kitchen), subway tiled the backsplash (stay tuned for the tutorial) and re-painted the walls.
Previously, my mom and I remodeled the kitchen when she came to visit in June, 2010.
We took down some of the doors on the upper cabinets, repainted the cabinets and walls, changed out the door hardware and installed a new faucet.
This is what our kitchen looked like from June 2010 until we started the second remodel in November, 2011.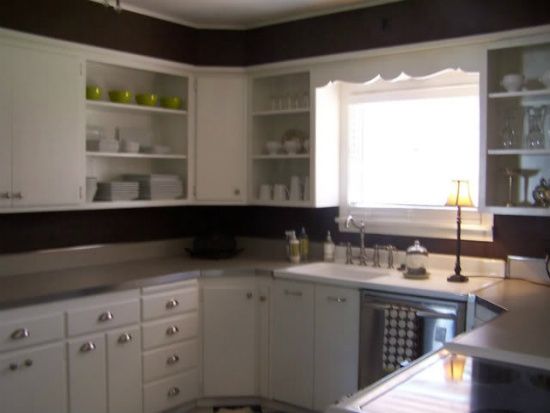 Finally, this is what it looked like when we purchased the home in April, 2009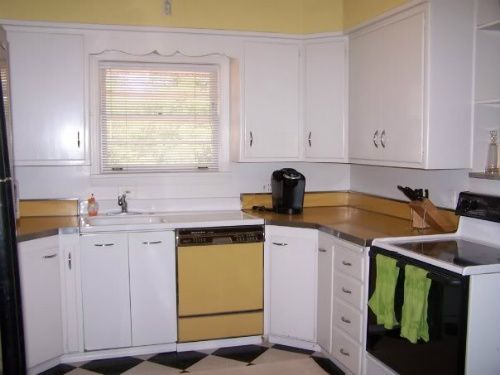 I love the new kitchen, it is so bright and spacious and open.  I hope the new owner's enjoy it as much as we do!
Linking Up: Craftomanic Mondays, Just Something I Whipped Up, Mod Mix Mondays , Home Stories A to Z , Tuesday's Treasures, One Project at a Time, DIY by Design, Domestically Speaking, Wicked Awesome Wednesday, Restored It Wednesdsay, WOW Us Wednesday, Hooking up with HOH, Open House Party, Simply Creations, House Party, Transformation Thursday, Addicts(not so)Anonymous Party, Inspiration Friday, Flaunt it Friday, Frugalicious Friday, Catch as Catch Can, Weekend Wrap Up, Home Sweet Home, Frugal Friday