This post is for fellow blog newbies.
Sassie Sites Blog is hosting a new blog link party! I just signed up, it is to introduce blogs 6 months old or younger.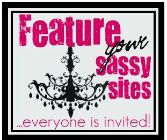 I also linked up for a link party at Hello, Splendor. Beth is featuring all blogs, big or small…just link up.
Both of these sites have tons of blogs new to me….I love it! I am having my own party reading through all of the new blogs (or new to me blogs).
Have Fun! Have you found any additional link parties? Or new blogs I should be reading?